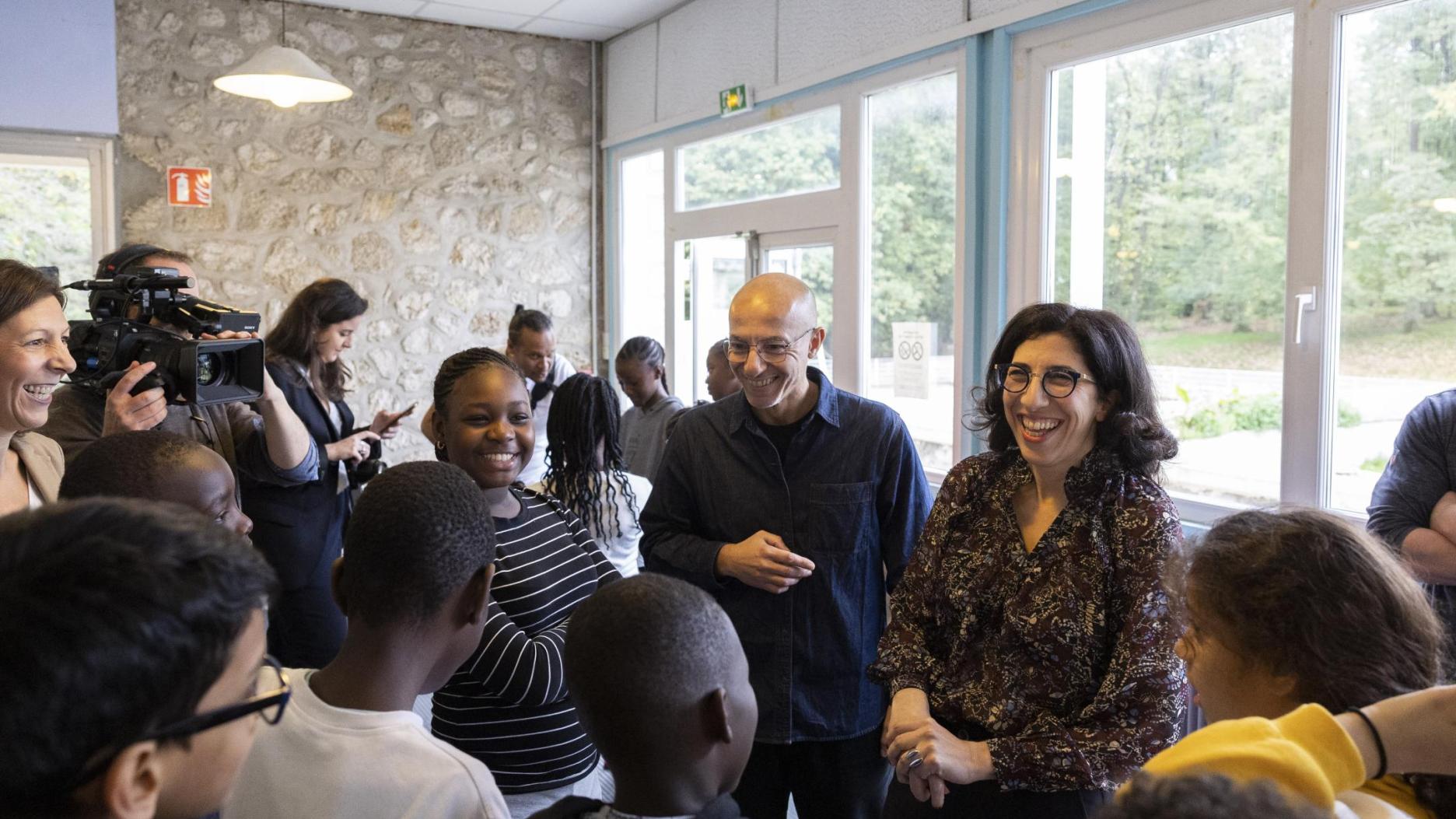 Chaillot is a hospitable venue, home to all kinds of dance, audiences, as well as creative and human endeavors. Since he took over Chaillot, théâtre national de la Danse on April 6, 2021, choreographer Rachid Ouramdane has made the iconic building on the Place du Trocadéro facing the Eiffel tower a place of fruitful dialogue and sharing. His own artistic path suggests a consistent inclination for multifarious "people-driven" projects. Drawn to dance through hip hop and later trained at the CNDC in Angers, initially a performer, he has built up a multidisciplinary body of work that draws upon real-life events, explores nonconventional bodies (TORDRE, 2014) and sporting challenges (Corps extrêmes, 2021), fearlessly confronts the memory of war and exile (Loin, 2008), and the fate of young migrants (Franchir la nuit, 2018). He also headed the Centre chorégraphique national de Grenoble (CCN2) from 2016 to 2021.
Building on his rich experience as well as the unique history and location of an institution under the twin authority of the Ministry of Culture and the Ministry of Finance, the new director engages with the Chaillot House "with a different mindset." Advocating a spirit of sharing, he is committed to fostering hospitality "from within and out" and intends to bring art to "people's everyday life." Following in the footsteps of his illustrious predecessors Jean Vilar and Antoine Vitez, Rachid Ouramdane bridges the gap between sophistication and popular culture, which requires opening up and mixing art forms. His "necessary", generous and unifying dream translates into the commitment of a team of more than 125 permanent staff. It breaks down into several areas comprising various structured programs.
Far from preventing dialogue, the stately 26,000 square meter Art Deco architecture listed as a historic monument turns into an exciting interactive stage. The theaters, the vast lobby, the monumental staircase and the circulation spaces decked out in 30s frescoes become home to various offerings, including performance acts, conferences, discussions, shows, workshops, exhibitions, concerts, masterclasses, digital or immersive installations, DJ sets, as well as homely brunches. This is an opportunity to experience first-hand the opening up of art forms, mediums and aesthetics built into the "Chaillot spirit."
"To bring art where it's not expected" also means that it should reach out to urban and rural locations or natural landscapes so that everyone can see those in a different light. With his show Les Traceurs, Rachid Ouramdane summons the highliner Nathan Paulin and nine aerial artists of the collective XY for arresting mid-air crossings between major landmarks. Initiated on September 18 and 19, 2021 on a 670 meter wire between the roof of the theater and the Eiffel tower and later presented in various places around France and abroad, these "suspended" performance acts travel this year to La Rochelle, Bordeaux and Mont-Dauphin as part of the season "Moving monuments" in partnership with the Center for National Monuments.
Developing art appreciation actions towards schools and people unfamiliar with these practices is another essential mission of the Theater, one that is carried out closely with local people. Initiated in 2022, the "Chaillot Colos" allow young people who cannot go on a vacation an introduction to dance, the conception of a show, acrobatics workshops and the "choreography of filmed self narratives" under the supervision of the theater's associate artists and based on the project co-selected with the participating municipalities. So far six of those have taken place in Paris, Martinique, Saint-Denis and Kigali (Rwanda), bringing together children and teenagers originating mostly from underprivileged neighborhoods of the city or impoverished areas. During these unique moments of communal life, the discovery of an art form comes with the emergence of social connections and peaceful togetherness.
Finally, Chaillot Olympiques, in relation to the Paris 2024 events, offers schools a full day of art and culture education focused on "art and sport", on the premises of the theater or elsewhere in the country and its overseas territories. The idea is that a high-level athlete enters into a dialogue with a guest artist and the middle and high school students who then discuss the topic of the day together. Recent topics include: "Exploring/pushing one's limits through the Gaga method" with the artists of Ohad Naharin's Batsheva Dance Company and "soccer, games and implications" with Pierre Rigal and the company Dernière Minute.
A common thread runs through all of Chaillot's initiatives: the thriving and multifaceted nature of creative work, the cross-pollination of different art forms and the accessibility to all audiences. Free of any cultural insularity, dance and the arts of movement with it cement the human values of inclusion and community. 
The term "Fabrique Chaillot" includes various projects designed to promote choreographic work, a paramount mission of the only theater house out of the 6 national French theater houses to have focused on dance performance since 2008. The Vilar and Gémier theaters (respectively 1200 and 390 seats) host about 50 shows per season, totaling 230 performances and 120,000 tickets sold. Additionally, artists in residence benefit throughout the year from the three rehearsal spaces of the theater as well as customized support in their creative work.
Chaillot is also a collaboration-friendly house where dance, in its wide variety of aesthetics, contributes to bringing different worlds closer together, whether in the form of innovative events or international collaborations. Featured in those initiatives are nine artists from multiple backgrounds, including the choreographers Nacera Belaza, François Chaignaud, Fanny de Chaillé, Dorothée Munyaneza, Faustin Linyekula, Gisèle Vienne, the collective XY, the journalist and director Aurélie Charon and the rapper Kery James.
A few days a year, each of them, along with other artists, have carte blanche to curate work accessible to everyone during large gatherings named "Chaillot Expérience". Giving artists programming opportunities or letting audiences discover artists from all over the world, these intense moments make dance interact with other art forms such as visual arts, comics, cinema, literature, fashion, music and more.